Quality Needle Felting Supplies, Kits & More!
Welcome to The Felted Ewe!
We are your #1 Choice for Quality Needle Felting Supplies!
​
Needle Felted Apple Instructions
Please read all instructions before starting this project.
We used Core Wool Roving, Wool Fibers in Red, Green & Brown, Felting Needles & a Foam Felting Surface.

Caution - Needles are sharp!
This craft is not recommended for children under the age of 11.
Please take precautions to protect your fingers & keep away from Young Children & Pets!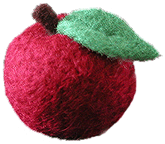 Pull off some Core Wool & roll tightly into a ball. This gives you approximate size. Add more if you want your Apple larger, remove some to make it smaller.
Poke, poke, poke, until your Apple becomes firm but not to firm. Make sure the tip of the needle gets to the center so it is the same density all the way around & through. Squeezing it in your hand will give away any softer spots!
Keep your needle straight. You can felt at any angle as long as the pressure is only coming from the top of your needle. Sideways pressure will bend or break your needle. Watch the tip as you felt. If it "bows" it will break!
Felt an indentation at the top by felting around in the same spot for a bit
then turn your Apple over to felt a smaller indentation at the bottom.
Givin' your Apple some Skin!
Pull off some Red Roving & lay just enough fibers over your foam felting surface to evenly cover your Apple. Wrap a section up over your Apple & start felting the fibers in. Do not felt all the way through your Apple or white fibers will show out the other side. Continue to pull the fibers up & around your Apple "Core" until it is completely covered with red fibers. Felt them in evenly all around to get nice, smooth, even coverage. Felt more fibers over any thin spots where white shows through. Remember to felt your indentations back into your Apple on the top & bottom. Poke, poke, poke... really felt in those fibers & shape your Apple. At this point your Apple should be really firm. The more you felt, the smaller, firmer & smoother it will get. Rolling it in your hands helps to smooth it out & get rid of any unwanted dimples.
Pull off a bit of some Brown Fibers & lay them on the foam. Fold the fibers in half lengthwise then roll them into a cigar shape. The folded end will be the top of your Stem. Do not felt the other end. You will use the loose, wispy fibers to attach your Stem to your Apple. Hold onto the loose, wispy fibers & felt back & forth a little less than 1/2" from the folded end down it's length. Rotate & repeat until your Stem becomes firm & straw shaped. Remember, do not felt the wispy fibers that you are holding onto.
Roll your Stem between your thumb & finger to firm it up a bit more.
Spread the loose, wispy fibers out from the center so they look like tree roots.
Place your Stem over the large dimple made at the top of your Apple. Needle felt the loose, brown fibers into your Apple down under your Stem. Make sure the tip of the needle goes into your Apple at least 1". Keep felting around your Stem until all the loose, brown fibers are felted in & your Stem is firmly attached. Felt as close to the edge of the Stem as possible. Felt the top of your stem flat by lightly poking down on the top of it so your Apple looks similar to the one pictured above.
Pull off some Green Roving & lay it on your foam, spread the fibers out evenly. Felt the fibers lightly into the foam, not to deep, into a leaf shape leaving one end wispy to attach to your Apple. Peel it up, flip it over & repeat. Do this several times until your Leaf takes shape & thickens up. Felt more green fibers into any thin spots. Felting at a severe angle makes for a nice smooth finish. Watch your needle, it's not bending is it? Be sure to felt the edges thin & felt the fibers in around the sides. Once your Leaf is firm, you can use scissors to trim off any stray fibers. Do not trim off the wispys, you still need them to attach your Leaf to your Apple!
Pull off any looser, excess wispys. Hold them to the base of your Stem & felt them in really well going back & forth only about 1/8" or so. Keep felting, get that needle in there... all the fibers will disappear. Felting them inward on either side will make your Leaf more narrow where it is attached. Felt down the center of your Leaf back & forth several times to give it more dimension.
There you have it...
Your very own, One-of-a-Kind, Needle Felted Apple! I hope you enjoyed this project. You have now learned all the Basics to Needle Felting. Including what Core Wool is used for, how to needle felt a cylinder, needle felting your fibers flat as well as how to attach your pieces together. All you need now is your imagination!
Happy Needle Felting!
These instructions are the exclusive property of The Felted Ewe.
They are intended for personal use only & may not be sold in whole or part by any party.
All Rights Reserved under U.S.A. & International Copyright Laws. Pattern and/or Illustrated / Written Instructions for Personal use ONLY and may not be stored in any manner or used for any other reason without author's written permission.

Caution: Selling items as your own made from these instructions or using these instructions as a Design Template infringes on Copyright Laws unless you have the Authors Written Permission to do so.

These instructions are presented in good faith; no Warranty, Expressed or Implied, for Merchantability, Fitness for a Particular Purpose or Non-Infringement is made nor results guaranteed. We have no control over the end use or results of these instructions and disclaim any responsibility for unsatisfactory results.