Quality Needle Felting Supplies, Kits & More!
Welcome to The Felted Ewe!
We are your #1 Choice for Quality Needle Felting Supplies!
​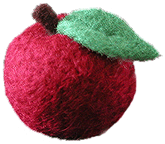 Needle Felted Apple Instructions
Please read all instructions before starting this project.
We used Core Wool Roving, Wool Fibers in Red, Green & Brown, Felting Needles & a Foam Felting Surface.

Caution - Needles are sharp!
This craft is not recommended for children under the age of 11.
Please take precautions to protect your fingers & keep away from Young Children & Pets!
Givin' your Apple some Skin!
There you have it...
Your very own, One-of-a-Kind, Needle Felted Apple! I hope you enjoyed this project. You have now learned all the Basics to Needle Felting. Including what Core Wool is used for, how to needle felt a cylinder, needle felting your fibers flat as well as how to attach your pieces together. All you need now is your imagination!
Happy Needle Felting!
These instructions are the exclusive property of The Felted Ewe.
They are intended for personal use only & may not be sold in whole or part by any party.
All Rights Reserved under U.S.A. & International Copyright Laws. Pattern and/or Illustrated / Written Instructions for Personal use ONLY and may not be stored in any manner or used for any other reason without author's written permission.

Caution: Selling items as your own made from these instructions or using these instructions as a Design Template infringes on Copyright Laws unless you have the Authors Written Permission to do so.

These instructions are presented in good faith; no Warranty, Expressed or Implied, for Merchantability, Fitness for a Particular Purpose or Non-Infringement is made nor results guaranteed. We have no control over the end use or results of these instructions and disclaim any responsibility for unsatisfactory results.